Translated article from Corren
The industrialized version of Fumo arouses great interest among the fire services in Sweden. Media, both daily press and industry press show Fumo interest and articles are published.
This article has been published in ÖstgötaCorrespondenten, a daily newspaper with regional coverage in eastern Sweden. As it is published in Swedish, we have translated it and hope it will be a pleasant read nontheless.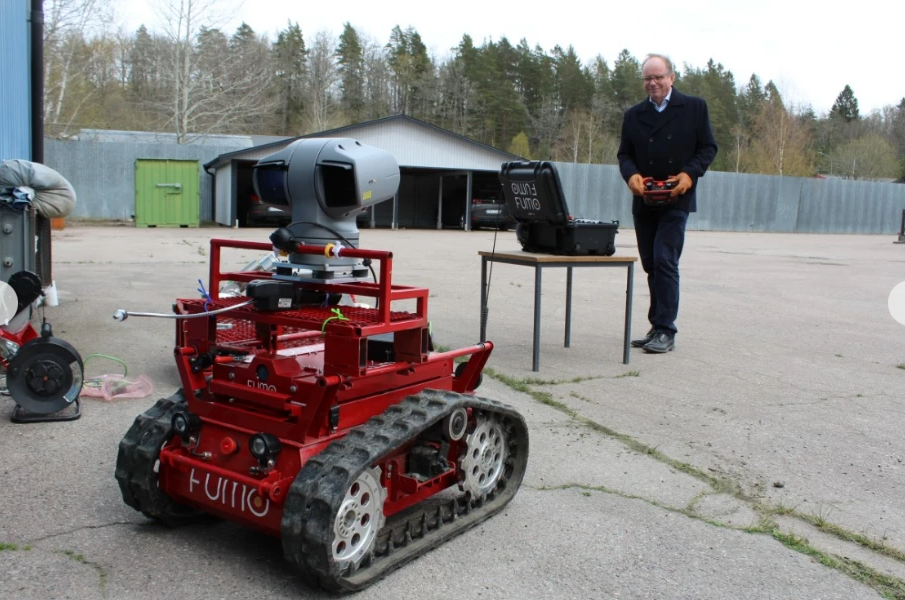 Thomas Eriksson, inventor, founder, and CEO of technology company Realisator Robotics has worked for eleven years developing his fire-fighting robot Fumo. It is remotely controlled and has numerous technically advanced functions and can, among other things, detect gas leaks and send moving images to a base module.
Photo: Lotta Willsäter 
This is where the robot for the rescue services is being developed
It can put out fires, search for people in smoke-filled rooms, detect gas leaks and pull heavy fire hoses in terrain. This is about the fire-fighting robot Fumo, which was developed at Scanfil in Åtvidaberg.
ÅTVIDABERG 19 MAY 2021 09:00

 Technological development takes time. This is something of which Thomas Eriksson, CEO and founder of technology company Realisator Robotics is well aware.
His idea to develop and industrialise a fire-fighting robot began to smoulder eleven years ago. When we meet up on a chilly afternoon in May, he remotely controls his Fumo with his hands in heated gloves in the courtyard of the rescue services facility in Åtvidaberg.
The robot, which weighs 185 kg, with its battery, is rolled into a training room. It is furnished with advanced equipment and by means of a camera system it sends moving images and information to a screen on a base module outside the room.
– Our rescue services are often faced with dangerous operations, where they want to know how things looks before going in with, for example, smoke divers, says Thomas Eriksson.
The fire-fighting robot Fumo gets its name from the Latin word fumo, which means smoke. But it has far more applications than that of detecting smoke.
It is multifunctional and can be fitted with equipment for various areas of application; for inspection, smoke diving, extinguishing, gas detection, for carrying loads and pulling fire hoses – it has the strength to pull 100 metres of water-filled heavy-duty hose.
The development of the fire robot has been ongoing since 2019 in collaboration with Scanfil in Åtvidaberg.
– It takes many skills to develop and industrialize a technically advanced product such as this, states Thomas Eriksson.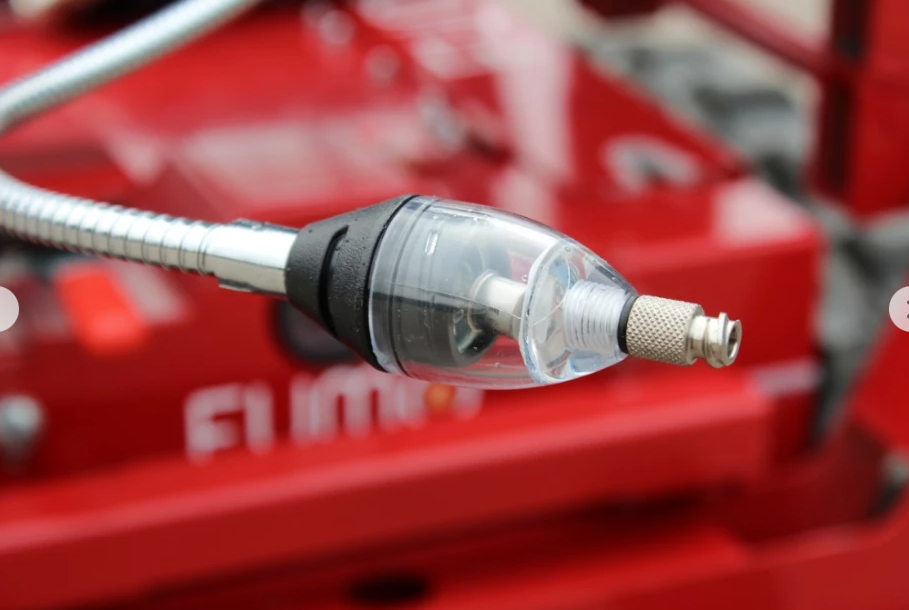 The Fumo fire-fighting robot can detect gas and send information about any possible leaks.
Photo: Lotta Willsäter 
RTÖG, the Östra Götaland Rescue Services, are also involved in the development work. Fumo is tested at RTÖG's facilities, in collaboration with the rescue personnel.
– It can be a future aid, says Thomas Larsson, station manager and leader of operations in Åtvidaberg.
Jörgen Fager is a project technician at Scanfil's development department and is responsible for the development of Fumo.
– It's really exciting to be involved in developing products like this, he says.
Scanfil's CEO Steve Creutz agrees:
– This is also a product that really suits us. Products within the areas of safety, health and the environment are important to us. We want to be involved in product development and grow together with our customers, he says.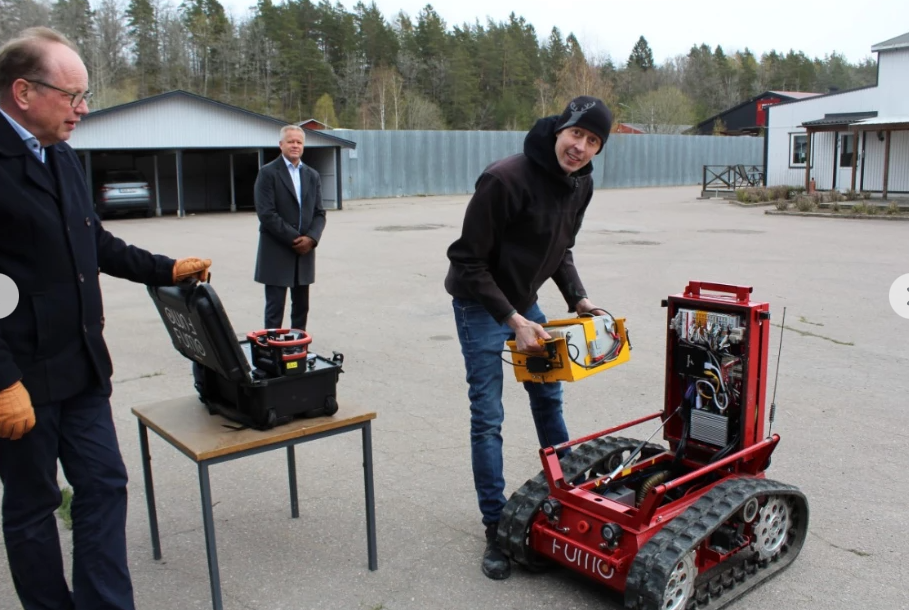 Jörgen Fager, project technician at Scanfil, has led the development work in Åtvidaberg and is in control of all the technology that fits inside the shell.
Photo: Lotta Willsäter 
There is one example of Fumo today. At present it is on show at MSB's (The Swedish Civil Contingencies Agency) training facility in Skåne for rescue services interested in learning more about it.
 Thomas Eriksson is hopeful of receiving orders soon. When asked where the production will take place, the answer comes swiftly:
– Scanfil, that goes without saying, says Eriksson.
Lotta Willsäter